Attendance - Raidstats - New to Brilliance? Read this
Ahn'Qiraj will be released SOON™
It is time to get (re)acquainted: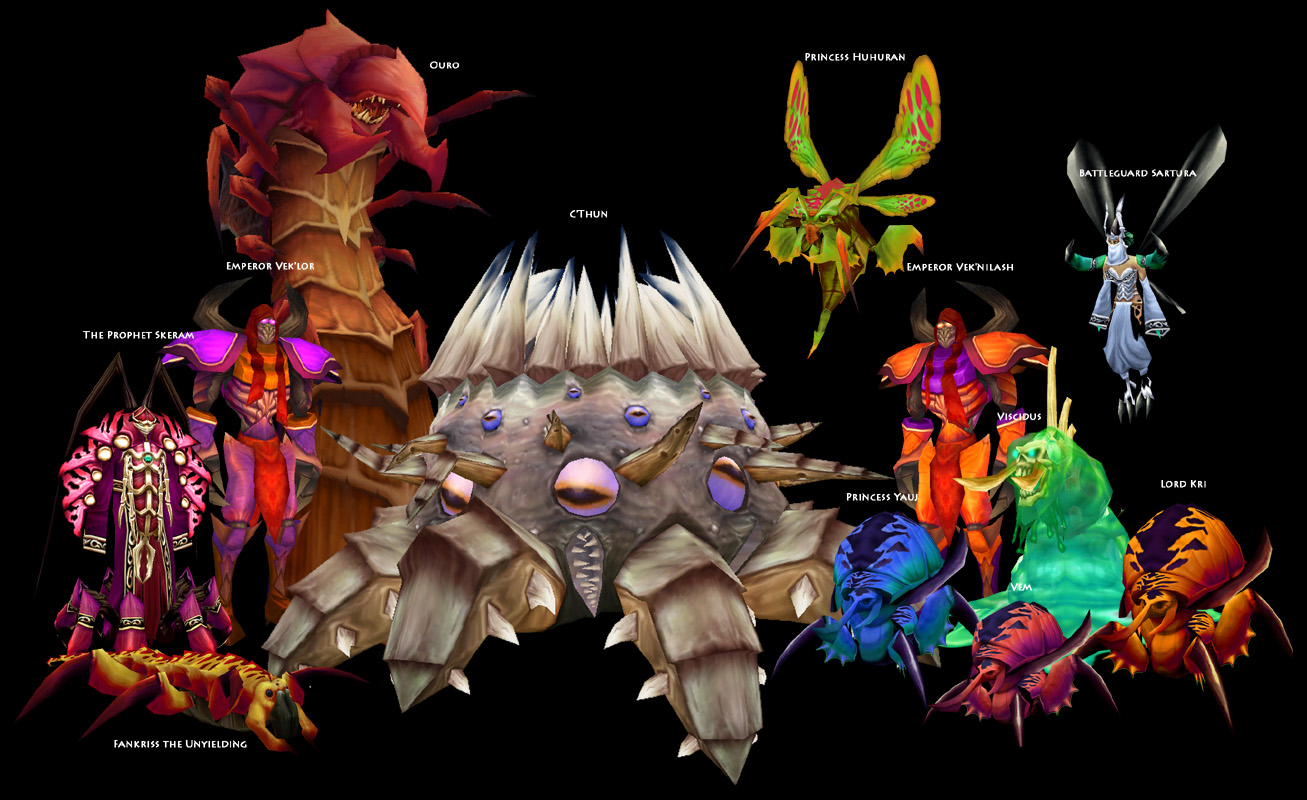 The pictures above show the bosses of AQ40 and AQ20. The images are also links to the wowwiki pages for both raid instances.
We will not be participating in PTR fake progression this time around either, for another fresh and crisp experience. Some of us are going there for the first time and others for the 200th time, either way, it is time to prepare.
We expect you to be familiar with all 15 boss encounters and to be stocked up on consumables, as shown below, as minimum.
Mind you, this stockpile of consumables is for your own sake. If you cannot get your consumables together before the release of AQ, you may have to purchase them at higher prices. So do yourself a favour and prepare, excessively.
Consumables required, listed by class/role:
Theshame and Alihaeri can make all of the flasks, elixirs and food buffs
Thefilth, Avoidlol and Towndefiler can make Brilliant Mana Oil and Brilliant Wizard Oil
Casters can use this document to calculate the cost of buyout of materials or elixirs and more. It is mostly for warlocks, but may be useful to others.
Additionally, consumables are no longer expected in Molten Core and only for Vael, Chrom and Nefarian in BWL.
Druids (Resto):
80 x Mageblood potion (16 stacks)
100 x Major Mana Potion (20 stacks)
10 x Flask of Distilled Wisdom
50 x Brilliant Mana Oil (10 stacks)
40 x Dark/Demonic Runes (2 stacks)
80 x Nightfin Soup or Sagefish Delight (4 stacks)
50 x Greater Nature Protection Potion (10 stacks)
50 x Greater Shadow Protection Potion (10 stacks)
Hunters:
80 x Elixir of the Mongoose (16 stacks)
80 x Juju Power (4 stacks)
80x Mageblood potion (4 stacks)
Ground Scorpok Assay(Blasted lands Buffs)
50 x Greater Nature Protection Potion (10 stacks)
50 x Brilliant Mana Oil (10 stacks)
50 x Major Mana Potion (10 stacks)
80 x Grilled Squid (4 stacks)
10 x Flask of the Titans (2 stacks)
50 x Greater Shadow Protection Potion (10 stacks)
Mages:
80 x Mageblood potion (16 stacks)
100 x Major Mana Potion (20 stacks)
10 x Flask of Supreme Power (2 stacks)
50 x Brilliant Wizard Oil (10 stacks)
80 x Greater Arcane Elixir (16 stacks)
80 x Elixir of Greater Firepower/Frost Power (16 stacks)
40 x Dark/Demonic Runes (2 stacks)
80 x Rum Tum Tuber Suprise (4 stacks)
50 x Greater Nature Protection Potion (10 stacks)
50 x Greater Shadow Protection Potion (10 stacks)
Priests (Healing):
80 x Mageblood potion (16 stacks)
100 x Major Mana Potion (20 stacks)
10 x Flask of Distilled Wisdom
50 x Brilliant Mana Oil (10 stacks)
40 x Dark/Demonic Runes (2 stacks)
80 x Nightfin Soup or Sagefish Delight (4 stacks)
50 x Greater Nature Protection Potion (10 stacks)
50 x Greater Shadow Protection Potion (10 stacks)
Priest (Shadow):
80 x Elixir of Shadow Power (16 stacks)
80 x Greater Arcane Elixir (16 stacks)
80 x Mageblood potion (16 stacks)
10 x Flask of Supreme Power (2 stacks)
50 x Brilliant Wizard Oil (10 stacks)
50 x Greater Nature Protection Potion (10 stacks)
50 x Major Mana Potion (10 stacks)
40 x Dark/Demonic Runes (2 stacks)
80 x Nightfin Soup or Sagefish Delight (4 stacks)
50 x Greater Shadow Protection Potion (10 stacks)
Rogues:
80 x Elixir of the Mongoose (16 stacks)
80 x Juju Might/Elixir of Giants (4/16 stacks. Juju Might is more AP and stack on 20)
80 x Juju Power (4 stacks)
80 x Juju Flurry (4 stacks)*Tryhardstuff*
80x Winterfall Firewater (8 stacks)
X Amount of poisons/Flashpowder/Thistle tee (Should never run out of those)
Ground Scorpok Assay/R.O.I.D.S (Blasted lands Buffs)
50 x Greater Nature Protection Potion (10 stacks)
80 x Smoked Desert Dumplings/Grilled Squid (4 stacks)
10 x Flask of the Titans (2 stacks)
50 x Greater Shadow Protection Potion (10 stacks)
Shamans (Resto):
80 x Mageblood potion (16 stacks)
100 x Major Mana Potion (20 stacks)
10 x Flask of Distilled Wisdom
50 x Brilliant Mana Oil (10 stacks)
40 x Dark/Demonic Runes (2 stacks)
80 x Nightfin Soup or Sagefish Delight (4 stacks)
50 x Greater Nature Protection Potion (10 stacks)
50 x Greater Shadow Protection Potion (10 stacks)
Warlocks:
80 x Elixir of Shadow Power (16 stacks)
80 x Greater Arcane Elixir (16 stacks)
10 x Flask of Supreme Power (2 stacks)
50 x Brilliant Wizard Oil (10 stacks)
50 x Greater Nature Protection Potion (10 stacks)
50 x Limited Invulnerability Potion (10 stacks)
20 x Major Mana Potion (5 stacks)
80 x Spider Sausage (4 stacks) (Can use Runn Tum Tuber Surprise or a different stam food instead)
50 x Greater Shadow Protection Potion (10 stacks)

Warriors (DPS):
80 x Elixir of the Mongoose (16 stacks)
80 x Juju Might/Elixir of Giants (4/16 stacks. Juju Might is more AP and stack on 20)
80 x Juju Power (4 stacks)
80 x Juju Flurry (4 stacks)*Tryhardstuff*
80 x Winterfall Firewater (8 stacks)
20 x Mighty Rage Potion (4 stacks)
Ground Scorpok Assay/R.O.I.D.S (Blasted lands Buffs)
50 x Greater Nature Protection Potion (10 stacks)
80 x Smoked Desert Dumplings/Grilled Squid (4 stacks)
10 x Flask of the Titans (2 stacks)
50 x Greater Shadow Protection Potion (10 stacks)
Warriors (Tank):
80 x Elixir of the Mongoose (16 stacks)
80 x Elixir of Superior Defense (16 stacks)
80 x Elixir of fortitude (16 stacks)
80 x Juju Power (4 stacks)
80x Greater Stoneshield Potion(16 stacks)
50 x Greater Nature Protection Potion (10 stacks)
80 x Of any 12+ stamina food e.g Tender Wolf Steak (8 stacks)
80 x Rumsey Rum Black Label (16 stacks)
50 x Greater Shadow Protection Potion (10 stacks)